Your Unique PCOS Type:
Insulin Resistant PCOS

The most likely root cause of your PCOS is insulin resistance. Check your email now for more info!

This root cause makes up around 80% of all PCOS cases which means it is the most common cause of those annoying symptoms like acne, irregular or missing periods, fertility struggles and hair changes.

Your Individualized Vitamin Protocol For
Insulin Resistant PCOS

"To treat PCOS, you need to know what's driving it. In other words, you need to know your functional type of PCOS." - Dr Lara Briden, author and PCOS specialist.
Using evidence-based formulas, your recommended Insulin Resistant PCOS bundle supports to reduce sugar cravings, improve energy and support healthy body weight to get you back to the best version of yourself.
In other words, your Insulin Resistant PCOS bundle support your unique PCOS type.
Take the first step in getting back to the best version of yourself.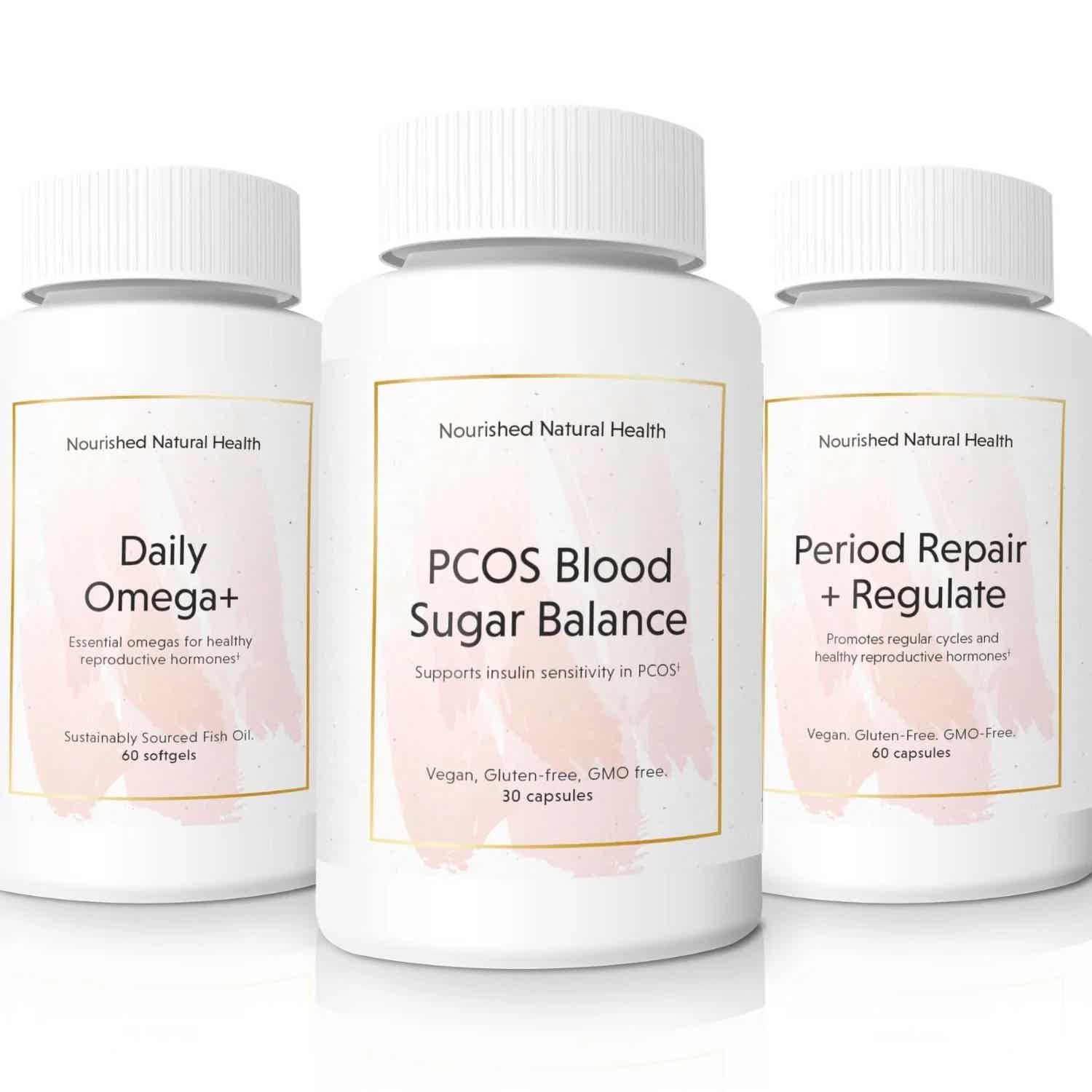 Your bundle has been personalized to include 3 vitamins to support your biggest challenges based on your PCOS quiz responses:
✅Regulate your cycle and reduce period pain with Nourished Period Repair + Regulate


✅Support metabolism, reduce sugar cravings and maintain a healthy weight with Nourished PCOS Blood Sugar Balance

✅Reduce period pain, cramps and PMS with Nourished Daily Omega+



See what these incredible women had to say about the Insulin Resistant PCOS Power Pack
Trust & Safety Is At The Core Of Our Business.
You're In Good Hands.

We know you want a product that is safe and gets you results. That's why at Nourished, all of our products are:

- Nutritionist and naturpath designed and certified
- 100% natural ingredients
- Fully FDA approved & GMP certified
- 100% made and manufactured in the USA
- Backed by our 100% no questions asked 30 day money back guarantee

When you order with Nourished, your purchase is in safe hands.


Which 3 Vitamins Do I Get In The Bundle?
Period Repair + Regulate - 30 Day Supply
The perfect natural vitamin to balance your hormones and support period pain, PMS, energy & skin.

Designed to support reproductive hormone balance and relieve PMS. Contains B-vitamins to support mood and improve stress tolerance plus herbs used traditionally to promote regular periods.


PCOS Blood Sugar Balance - 30 Day Supply
Nourished PCOS Blood Sugar Balance aims to support in regulating blood sugar levels and improving insulin sensitivity.

This unique blend of minerals and herbs was created using a blend of scientifically proven natural ingredients to help to maintain optimal blood sugar balance and support in reducing sugar cravings.


Daily Omega+ - 30 Day Supply
Studies have indicated that high-quality fish oil is one of the strongest ways to support insulin resistance.

Our omega is sourced sustainably with strict quality controls.

Want to add the #1 vitamin for all PCOS types?
What else can I do for my Insulin Resistant PCOS?
Don't worry, I've got you covered!
✔️ ​I've put together a FREE, customized guide on exactly what Insulin Resistant PCOS means and what to do about it

✔️ In the guide I've covered what causes insulin resistance plus my biggest tips to reverse your root cause (including my top vitamin recommendations for your PCOS type).

Check your email in the next few minutes for your free guide to Insulin-Resistant PCOS.

As a PCOS cyster myself, I know how frustrating and difficult this condition can be. I want you to know that I'm here to support you at every step of your journey so that you can tackle the root cause of your symptoms for good.
I'll be in touch via email over the next few weeks with more specific PCOS advice to support you. You can unsubscribe at any time if you don't feel this life changing, individualized advice is what you need (but I'm confident it will be!).
** Important note: can't find your email? Check your other tabs (like promotions) as it may be hiding there.
Learn how to whitelist my emails
here
so you don't miss any future emails from me (I'm going to share so much free advice that you won't want to miss!)